Folder, Dossier, Mappe
Book(s) Presentation by Annaïk Lou Pitteloud
and Georg Rutishauser, editions fink, publishing house
for contemporary art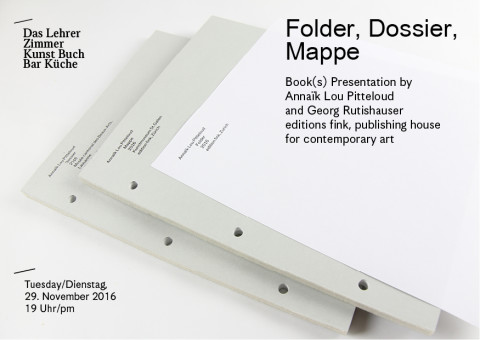 In 2015, Georg Rutishauser and Annaïk Lou Pitteloud started working on a long time publication project. A first book was released in November 2015 on the occasion of the solo exhibition Working Title in the Kunstmuseum St.Gallen. It consisted in a first selection of works and textual contributions published in German under the title Mappe.
Beginning of 2016, a second publication containing another selection of works and contributions was issued in French under the title Dossier on the occasion of the Prix culturel Manor Vaud 2016 and of the solo exhibition The piece Outside in the Musée cantonal des Beaux-arts Lausanne.
A third publication, Folder, is now published in English and is conceived as a compilation and extension of the two first publications.
Folder will be presented for the first time at the Lehrerzimmer in Bern on Tuesday the 29th of November 2016 at 19 pm.
The three books were published with the kind support of Kunstmuseum St. Gallen, Prix culturel Manor Vaud, Musée cantonal des Beaux-arts Lausanne, Espace Piano Nobile and Pro Helvetia.